School Safety, Security and Behavior Observations 
Keeping schools, students, and teachers safe is a priority in today's educational environments.  While many schools are in the process of, or have already, initiated security procedures and policies, we take it a step further!  Integrating interactWEAR™ into those procedures will provide enhanced and automated measures leading to more timely and efficient actions.
Our new technology wireless interactWEAR™  control button transmitter is a wearable device that can trigger an automated action and/or initiate a sequence of actions to be performed by simply depressing the unit's control button for a defined and distinct period of time.  The button is ideal for security in the classroom and to help curb behavior issues  with video recordings of events, as well as initiating contact with administration and 911 emergency services should the need arise.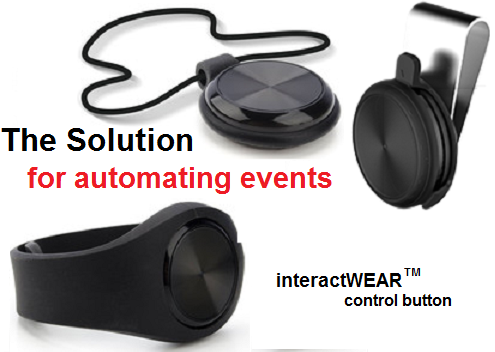 interactWEAR™ is light weight, compact, and just slightly bigger than a quarter.
Is ready to wear out-of-the-box with the included Pendant, Garment Clip, and Wristband.
It has a battery life of one year and uses a standard CR2032 watch battery which is removable and replaceable.
Whether a user simply wishes to record a lecture or video document a behavioral issue happening in the classroom, the button can initiate a camera to start/stop a video recording, notify superiors or administrators that an event is taking place and which they need immediate assistance at their location, or whether there is a severe threat and 911 authorities need notified, a simple series of button depressions will trigger the defined initiative.
With interactWEAR™ everyone benefits with
Proof-positive visual confirmation of behaviors and actions by teachers and students.
Teacher may utilize a push-button trigger to initiate instant video recording, alerts to administrators and authorities, and/or trigger the classroom door to be locked or unlock.
Live video stream accessible for observation by superior/administrator at any given time.
Proactive method to identify potential negative indicators before they become a problem.
Video may be reviewed with teachers, administrators, students and/or parents to initiate collaborative communications.
Video documentation that may assist in lawsuit defense, support and/or negotiations.
Below are a couple of example scenarios:
Behavior Issues (Example)
If little Johnny acts up in the classroom the teacher can press the button to initiate a classroom camera to begin recording the behavior(s).  Once the behavior ceases the teacher can press the button again to stop the camera recording.  This recording can then be shared with the student's guardian or parents.  Within the interact Activity Tracker the school will be able to see if the guardian or parent has actually watched the video.  Recording negative behavior serves two purposes: 1. to inform the parents of the behavior to gain support of corrective action(s), and 2. as video evidence of the behavior if it continues and further actions need to be taken by the school administration.
Security Issue (Example)
If a fight ensues or a student brings a weapon into the classroom the teacher can press the button for the defined period of time to initiate the classroom camera to begin recording AND alert the school administrators that there is a security problem as well as identify the location of the event within the school.  The button may also trigger classroom door to be locked or unlock.  The button triggered alerts will be sent via email and on-screen messages that pop-up on the administrators' computer screens as well as a audio alert sounding.  This specific type of initiated recording cannot be turned off by the teacher; it may only be turned off by an administrator.  All alerts are traced and stored within a report that may later be used as additional evidence to the video evidence if needed.