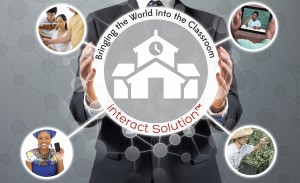 The interact turn-key video learning development and educational solution accelerates students' growth through innovative teaching techniques, video evidence, and timely cooperative collaborations.  No matter the environment, simulations, role-play, or field study, Interact improves valuable skills while tracking areas needing improvement, those that are progressing, and those that have been achieved.  It fosters efficient and unique methods of enhancing personal self-reflective experiences that may easily be shared with others through the interact Web Portal.
WHAT
Enhance teaching experiences and accelerate learning proficiencies with real-time or recorded video interaction between professors, students, and clinicians.
Labs (observation of students and participants, psychology, clinical)
Therapy (play, speech, reading)
Student counseling coaching
Flipping the classroom for blended learning using video lessons
Research projects (special needs, teacher evaluation, psychoanalysis)
DualSYNC™ two screen view of synced viewing, e.g., 2 recorded views, or 1 live view with 1 recorded view, or 2 live views, all with annotates synced between the two views
WHERE
Anywhere you are connected to your network or where there is internet connectivity.
On-site (classrooms, observation labs, science and research, viewing room, campus offices)
Off-site (access for field studies via our mobile app at remote locations)
Accessibly from multiple locations and by multiple individuals simultaneously
Accessible using PC, laptop, tablet, or smartphone (mobile app for Apple & Android)
Record video using network or wireless camera, webcam, flip cam, tablet, or smartphone
Side-by-side live viewing and/or recording from multiple camera angles with synced annotations
Self-authoring video for quick self-reflection and advancement
WHY
Adopting video technology in education accelerates a student's learning curve and understanding by 74%.  Add notes, observations, and critiques and watch them soar!
Live interaction and communication
Live or post recording video embedded notes
Ideal in simulation and role-play environments
Easy collaboration between individuals and/or groups located in various locations
HOW
Web Based Server
HIPPA Compliant
You OWN your content
Use your Network Server or our Cloud Solution
Unlimited Users, User profiles, file sharing
Profiles may contain: videos, documents, spreadsheets, PDF's & photo images
Content is available for viewing and sharing within 60 seconds of reaching the server
NO VIDEO BUFFERING!
Data Distribution
Easily define content distribution to:
One or multiple individuals
Groups of students by section/course, department, and/or location
Professors, Students, Deans, Staff, Administrators, and/or Clinicians
GENERAL

 
Customizable with your logo, color preference, and overall branding
Report tracking that captures IP address, Login ID, task activity, and viewing timeframes
Secure private sharing and definable restriction access
Unlimited User IDs and profiles
Password and Login secure, accessible 24/7